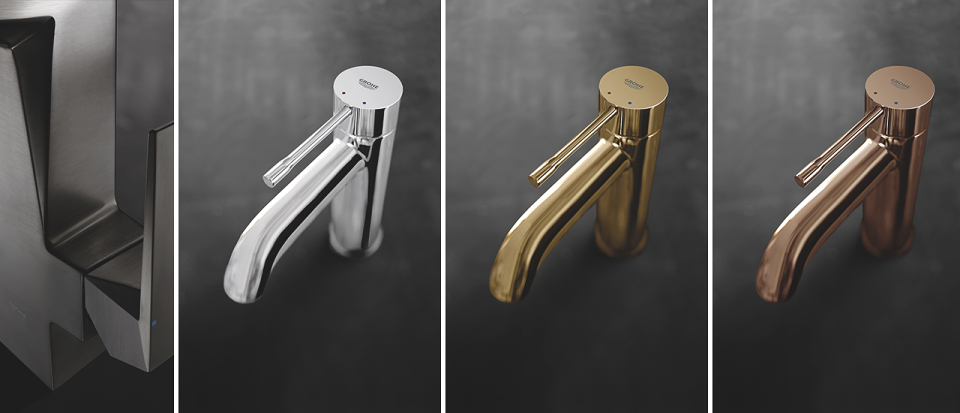 FREEDOM OF CHOICE - GROHE COLOR COLLECTION
GROHE has created a carefully curated range of colors and finishes for all touchpoints in the bathroom. Whatever your signature style, there is a GROHE color to make your vision a reality, with true consistency across every element, from faucets to showers, right down to the details of accessories and flush plates, making your scheme totally seamless. Nothing is left
to chance and the choice is entirely up to you, giving you total freedom to design a bathroom that effortlessly embodies your true self.
WIN YOUR GROHE COLORS COLLECTION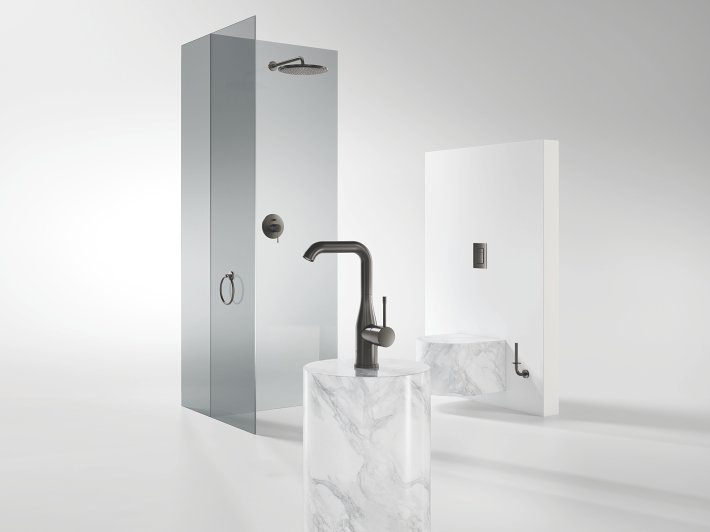 WIN 1 OF 10 GROHE COLORS COLLECTION BATHROOM SETS!
Enjoy the freedom of choice with your personal set of the GROHE Colors collection*. Tailor your bathroom to your individual style with ease.
*Each set contains a washbasin faucet, a head shower set, a wall plate and three accessories in 1 of 10 colors from GROHE Colors collection (the color depends on the product availability). Enter the competition between 01.01.2019 and 31.03.2019.
THE NEXT GENERATION OF COLORS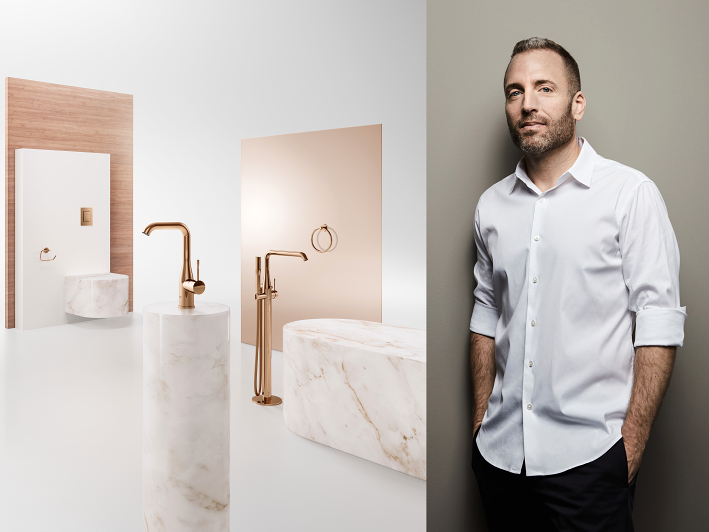 » THESE NEW OPTIONS ARE AN INCREDIBLY RICH TOOLBOX FOR THE CREATIVE MIND«
Michael Seum,
GROHE Vice President Design
Read the full interview.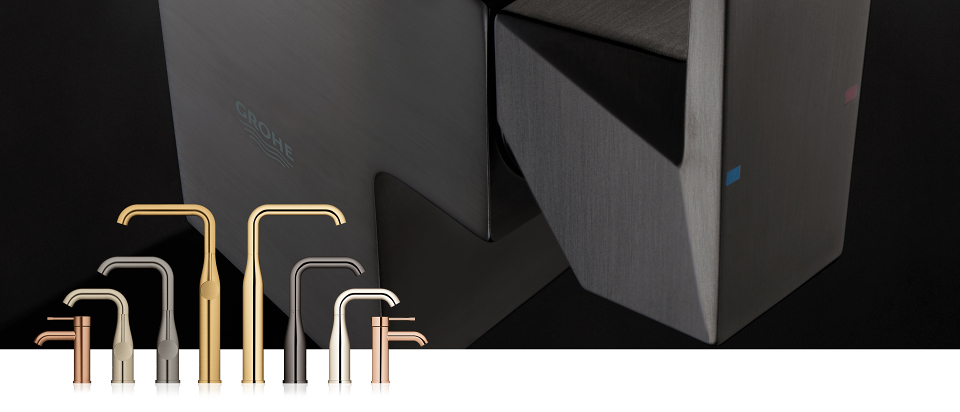 GROHE PVD - UNRIVALLED, HARD ANDSCRATCH RESISTANT
MADE-TO-LAST SURFACES RANGING FROM PRECIOUS MATTE TO SHINY LIKE A DIAMOND
GROHE faucets are made to look as beautiful decades on as they did on the day you first fell in love with them. Our special recipe for success lies in our long-lasting surface quality. GROHE uses state-of-the-art technology to deliver exceptional quality finishes. The physical vapour deposition (PVD) process ensures that the surface composition is three times harder, delivering a glistening gold or sophisticated stainless steel finish. As well as being harder, the surface is also ten times more scratch resistant, so it can be cherished for a lifetime.
OUR HIGH-END PVD TECHNOLOGY BRINGS OUR NEW COLORS TO LIFE
Product range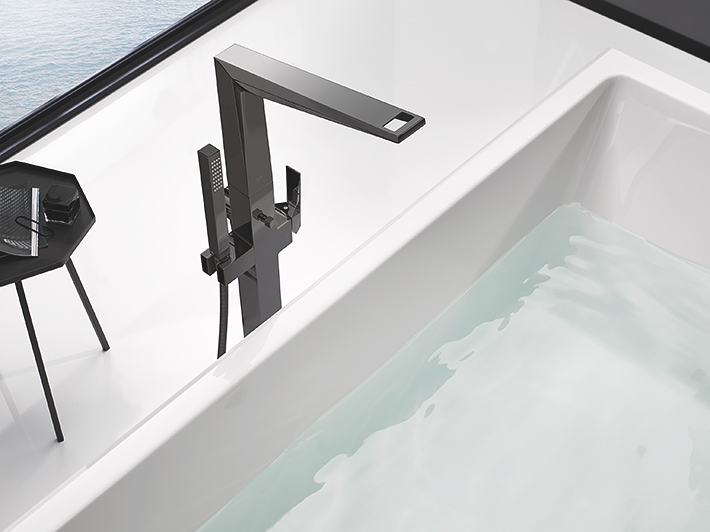 ALLURE BRILLIANT - Like a diamond
The luxurious designs of GROHE Allure Brilliant refine every bathroom
Crisp planes, intriguing angles and cut-out details, GROHE Allure Brilliant illustrates the absolute precision that can only be achieved through years of experience and an unfaltering passion for innovation. Complex without being complicated, its faceted mixers add a new dimension to bathroom design and a new dimension to water. With its gem-like quality and structured shape GROHE Allure Brilliant exudes architectural appeal. Our designers and engineers have taken on the roles of lapidaries, refining and polishing with utmost care to create a collection of intriguing designs, which will challenge your perception of bathroom fittings.
Product range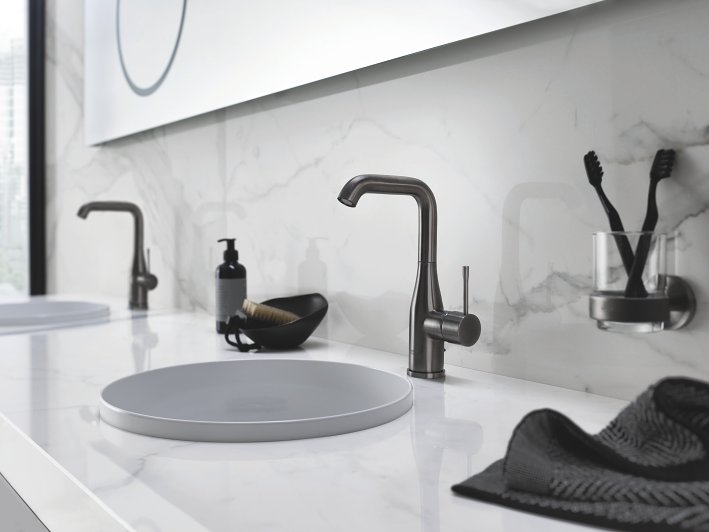 FIND YOUR PERFECT MATCH
In a GROHE bathroom nothing is left to chance. That is why we created Perfect Match – to take the guesswork out of matching the right tap to the right ceramic. GROHE's in-house designers tested hundreds of combinations on three criteria – aesthetic appeal, user comfort and splash-free operation. It's so easy that you only have to make one easy choice – for a perfect match.